PrintCelebration 2017 Science Talks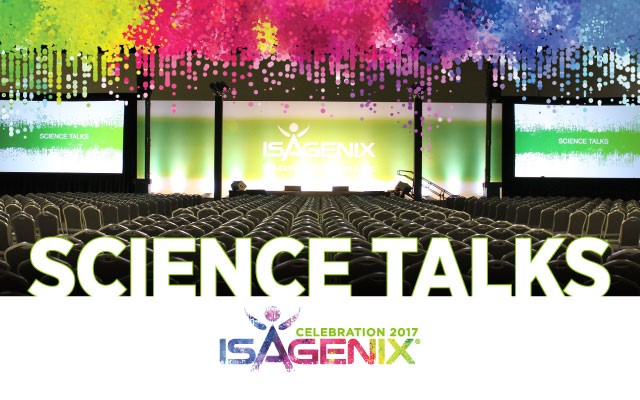 It's almost that time of year again! If you're planning your trip to Las Vegas this August for Celebration 2017, don't forget to schedule your arrival early enough to be at the venue for "Isagenix Science Talks."
The pre-Celebration event occurs on Sunday, August 6. You won't want to miss your chance to gain valuable education about the science behind our products and systems.
The Isagenix Research and Science team will be presenting along with members of the Scientific Advisory Board (SAB) and other health professionals. They'll also be available to answer any of your product and nutrition-related questions at the Ask the Nutritionist booth in the World of Isagenix throughout the entire event.
For more information, check out our "Science Talks" agenda. We can't wait to see you in Las Vegas!
Science Talks Agenda
Solutions to Transform Lives™
9-9:40 a.m.
Whether you're interested in losing weight, increasing your energy levels, building lean muscle and improving performance, or aging more gracefully – Isagenix has a solution for you. The Research and Science team will give an overview of the Isagenix Systems and products and explain why Isagenix has nutrition for just about anyone.
5 Reasons to Try Plant-Based IsaLean Shakes and Bars
9:40-10 a.m.
You don't need to be leading a plant-based lifestyle to enjoy dairy-free IsaLean® Shakes and Bars. A healthy diet is one that includes a variety of foods and sources of protein. Learn why everyone can benefit from the complete, dairy-free, plant-based nutrition Isagenix provides.
Research: Lose Weight and Keep It Off
10-10:30 a.m.
The ability to keep weight off is just as important as losing it. Come learn about the long-term weight maintenance study that compared an Isagenix maintenance system to a heart-healthy diet. This study shows that Isagenix does more than help you achieve your goal weight; it also helps you maintain it.
Get AMPED: Nutrient Timing for Sports Performance
10:30-11 a.m.
No matter what kind of athlete you are, the AMPED™ line can help you take your training to the next level. Learn more about the science behind nutrient timing and how you can customize your pre, mid, and post workout windows to get the most out of your workout with the help of Isagenix.
Scientific Advisory Board and Health Professionals Panel
11 a.m.-12 p.m.
Members of the Scientific Advisory Board along with a select group of health professionals will share their experience with Isagenix and what they think sets it apart. You do not want to miss this opportunity to hear your favorite Isagenix health professionals discuss some of today's health topics, in addition to a few frequently asked questions about Isagenix products.
IsaMyth Busting: Don't Be Nutrition Illiterate
1-1:30 p.m.
The Research and Science team will share their tips to help you determine if what you are reading online is based off solid scientific evidence. After this talk, we hope you will be armed with the information you need to decipher myth from truth.
Double Your First-Time Cleansers Success with Isagenix
1:30-2 p.m.
Cleanse Days are one of the many factors that sets Isagenix and its systems apart. With guidance from Isagenix and support from Cleanse Day coaches, Cleanse Days can become a successful and long-term dietary practice. Learn more about the most effective tips and tricks for a successful Cleanse Day and how you can provide the best support to your team.
Prime Time: Actively Defying Your Age
2-2:30 p.m.
Whether you are already in Prime Time or wanting to get a head start on graceful aging, learn more about the science behind healthy aging and how Isagenix can help you lead a long and active life.
How to Use the Bedtime Belly Buster
2:30-2:45 p.m.
Sometimes, weight management progress can stall or muscle-building support is desired. The Isagenix Bedtime Belly Buster (BBB) has become a popular method for tackling both weight loss plateaus and muscle-building support. This talk will cover the science and details behind the BBB, along with who may benefit from incorporating it into their nutritional plan.
Q&A
2:45-3 p.m.
Questions, questions, questions – Isagenix users and sharers are not strangers to questions about the products and best health practices. This Science Talk will cover the most frequently asked questions we get about Isagenix products. The Research and Science team will also take questions from the audience, so come with your own!